LA CASARANA UGENTO (LE)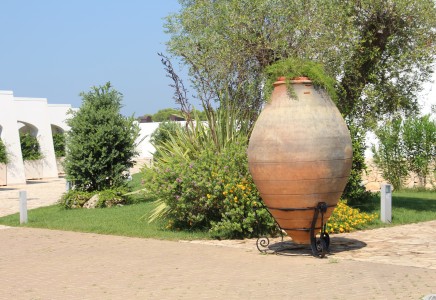 LA CASARANA RESORT & SPA situated on the 22 ha grounds of a 17th century manor farm between the splendid salento countryside and the enchanting seaside resort of Lido Marini, offers elegant accomodation. It's beautiful and charming interiors, spacious and stylish environments are carefully furnished, as well as reassuring and welcoming. The ideal holiday destination if you are looking for relax, wellbeing and entertainment.
Come and discover the charm and hospitality of Salento.

Its beautiful and charming interiors, spacious and stylish environments are carefully furnished, as well as reassuring and welcoming.
The exteriors of the building are also stylishly furnished, and designed with the aim of encouraging socialisation.
La Casarana Resort & SPA , a unique complex, in close contact with nature, is the ideal holiday destination if you are looking after entertainment, sport, relax and wellbeing.


LA CASARANA RESORT & SPA has 30 Superior hotel rooms all luxuriously furnished.
SUPERIOR Rooms:
double rooms/triple rooms/four-bed rooms, all superior rooms are on the first floor in the hotel complex, with balcony and king sized bed. Extra beds for adults and kids, max. 2 kids 0/12 years per room.
JUNIOR SUITE:
located on the first floor, two bedrooms with connecting doors, one with a king sized bed, the other with twin beds, two balconies. Max 4 people


LA CASARANA RESORT & SPA dispone inoltre di 50 family room arredate con gusto e ricercatezza dei materiali.
Tutte al piano terra con vista piscina o vista pineta, dispongono di una camera letto matrimoniale con ampio armadio a muro con cassetta di sicurezza,ampio bagno con box doccia in cristallo, soggiorno con 2 divano letto, sky tv con schermo a led, posto auto privato nel retro dell'appartamento, patio antistante attrezzato, ambienti interamente climatizzati. Pulizia e cambio asciugamani giornaliera. Cambio biancheria infrasettimanale.


External, situated in the middle part of the complex, during the day it is the favourite hangout for adults' entertainment, and where children can play safely.
During evenings….it is the ideal place to meet and have fun.


Within LA CASARANA RESORT & SPA, the wellness centre is the place where you can find yourself, regaining your power and harmonizing your senses with our heated massage swimming pool and the most ancient beauty rituals mixed to the modern techniques of our qualified staff. You will feel completely rejuvenated and recharged with positive energy. Sauna, massage heated swimming pool, kneipp route, emotional showers, ice fountain, massage rooms, Iodine Room, relax area with tea corner.


It is made up of a squared base tower, dating back to the end of 17th century, to which other rooms were added used as residences and storehouses for the processing of biological products.
The boundaries of the large courtyard facing the farm are marked by dry-stone walls enclosures and, on top of these, massive arches used as sheepfold and livestock's shelter.


Lido Marini, with its sandy shores and cristal clear sea is just 2,5 km away from LA CASARANA. The resort has a special agreement with one of the most elegant beaches – the LIDO BORA BORA (distance 8 km). It offers a relax area, bar and restaurant and is situated in the splendid scenary of Marina di Ugento. The beach is reachable through our frequent Bus-Shuttle service.
Spacious hall with 24hrs/day reception, cafe', pool bar, cable radio, air conditioning in the whole building, internet Wi-Fi network connection for free & wellness centre. Soft animation for both adults and children, always ensuring that our guest's tranquillity is respected.
SERVICES INCLUDED in the Club Card CASARANA RESORT & SPA (OBLIGATORY):
Entertainment, sports activities, games, tournaments, muscle toning, water aerobics and group dances, games room with table tennis and Playstation world, x-box, air-conditioned cinema, use of bicycles, fitness room (24 hours open), solarium with sun loungers and a swimming pool, playground and restaurant for kids + baby feeding, Sky TV, archery, bowling, use laundry, internet point and free wifi, wellness track in the pine wood with gymnastic apparatus, theatre in the pine wood. For charge: conventioned tennis camp
SERVICES
Laundry, ironing, mini club from 4 to 12 year.
SPECIAL RATES SERVICES (Not far from the complex)
Horse riding, Diving Centre, Quad, Gokart (international Raceway), boat trips, water sports, Windsurf/Kitesurf, boat hire, car hire.

LA CASARANA UGENTO (LE)

Ugento (LE)
Contact Us or Request a visit
Please call Call +39 080.504.39.80 or you can fill out the form below and we'll get back to you shortly